El Segundo Car Accident Attorney
El Segundo sits just to the south of LAX. The city is pretty evenly split by Sepulveda Blvd to create a dense residential area to the west and a dense business district to the east. Along the west edge of the city runs Vista Del Mar, a stunning drive that sits high above Dockweiler Beach to the west and the Hyperion Water Treatment Plan to the east.
El Segundo enjoys lots of taxi and ridesharing traffic as it hosts many travelers in the many hotels catering to the adjacent airport. The 105 Freeway also completes its journey from the heart of Los Angeles to end in El Segundo.
Below are some maps displaying the prevalence and locations of motor vehicle accidents in El Segundo. If you or a loved one has been injured in a car accident, don't go it alone. At The Ryan Law Group, our El Segundo car accident lawyers have a track record of recovering the compensation their wrongfully injured clients deserve. Call (310) 321-4800 today to schedule a free consultation.
Traffic Accidents in El Segundo
---
In El Segundo from 2007 to 2016, there were 774 vehicle collisions reported. This includes all auto accidents. This could mean a single-car accident, car against car accident, car and a pedestrian, car and a bicycle, and car and a motorcycle.
The top 10 most dangerous intersections in El Segundo are:
AVIATION BLVD & EL SEGUNDO BLVD
EL SEGUNDO BLVD & SEPULVEDA BLVD & SR 1
MARIPOSA AVE & NASH ST
IMPERIAL HWY & NASH ST
DOUGLAS ST & EL SEGUNDO BLVD
GRAND AVE & NASH ST
MAPLE AVE & NASH ST
CONTINENTAL BLVD & EL SEGUNDO BLVD
ROSECRANS AVE & SR 1
EL SEGUNDO BLVD & ISIS AVE
Motorcycles are particularly at risk for dangerous accidents on the road. In El Segundo, the most dangerous road for motorcyclists was Sepulveda Blvd.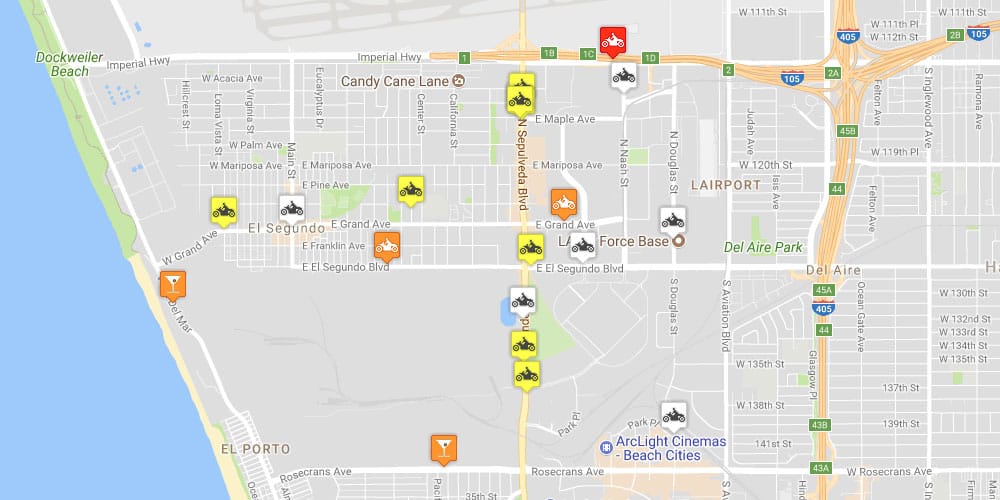 The most dangerous auto accidents are often those that involve the striking of a pedestrian or bicycle. In El Segundo from 2007 – 2016 there were 166 of these types of accidents with 2 fatalities. The most dangerous intersection for both pedestrians and cyclists was Mariposa Ave and Sepulveda Blvd with Mariposa Ave and Main St taking a close second.
---
All traffic data sourced from UC Berkeley's TIMS.
If you have been injured in a car accident, contact our Los Angeles personal injury lawyers at The Ryan Law Group.