7 Safety Tips for Motorcycle Riders
May is Motorcycle Safety Awareness Month. Every month should have a focus on motorcycle safety, however, as motorcyclists are much more likely to suffer serious and fatal injuries and accidents than other motorists. If you are an avid motorcycle rider in Los Angeles, it is critical to be proactive about your safety. Following basic safety tips, staying vigilant at all times and being aware of your surroundings could save your life. In the event you or a loved one gets into a motorcycle accident in Southern California, contact a Los Angeles motorcycle accident lawyer to learn your legal rights.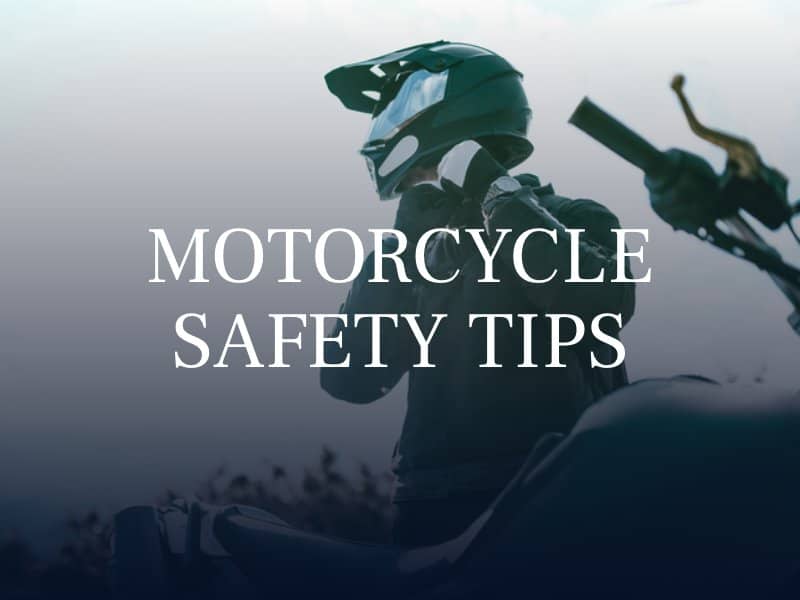 Choose the Right Bike – And Practice Riding It
Even before you ride, there are things you can do to improve your safety. One is taking your time to research the right motorcycle for you. Look for a bike with the right weight, power-to-weight ratio and overall power according to your size, weight, training, experience and goals. Then, practice on the motorcycle someplace safe, such as an empty parking lot or your driveway, before hitting the road. It is important to get used to how your motorcycle handles before joining the rest of traffic on a busy public road.
Inspect Your Motorcycle Before You Ride
Inspect your motorcycle thoroughly before every ride. Check your headlights, brake lights and turn signals to make sure they're working, as well as your tire pressure and fluid levels. Taking a few minutes to inspect your bike can help you avoid a breakdown when you're in the middle of your ride. Make sure you have all of the necessary equipment, as well. California law requires all motorcycles to have operable lights, front and rear brakes, a horn, and a mirror.
Wear a Helmet
Wearing a helmet is a legal requirement in the State of California. Even in states that do not require helmets, you should always wear one. According to the Centers for Disease Control and Prevention, a motorcycle helmet can reduce the risk of a serious or fatal brain injury in a motorcycle accident by almost 70 percent. A full-face helmet is the safest option, as it also protects your eyes and face from injuries in a crash. It is also smart to wear other protective gear in case of a collision, such as gloves, boots, jeans and a thick jacket.
Look at the Weather
The last thing to do before you head out on your motorcycle is to check the weather. Look at the forecast for any signs of dangerous or inclement weather, such as rain, fog, sleet or high winds. Excessive heat in Los Angeles can also pose a risk as a motorcyclist, both to your physical health from heatstroke and your bike from overheating. Know your limits and make a smart decision whether or not to still go out based on the weather where you'll be riding.
Practice Defensive Riding
While you're on the road, practice defensive riding. Defensive riding means assuming you are invisible and that other drivers don't see you, or that other drivers will break roadway rules. Defensive riding keeps you aware of your surroundings and ready to react to a changing roadway situation at any moment. Do what you can to predict what the drivers around you will do and where they will go. Adjust your position and speed accordingly to keep yourself safe from a motorcycle accident.
Always Obey Roadway Rules
Obey all roadway rules and traffic laws while riding a motorcycle in Southern California. Rules are there for a reason – to keep you safe. Obey speed limits, roadway signs and rights-of-way. Sticking to the rules can keep your actions predictable to the drivers around you, decreasing your risk of getting into an accident. Obeying the law can also help protect you from legal responsibility for a motorcycle crash.
Never Drink and Ride
Drinking and operating a motorcycle is a deadly mistake. According to the National Highway Traffic Safety Administration (NHTSA), 29 percent of motorcyclists who lost their lives in traffic accidents in 2019 were under the influence of alcohol. Intoxication can reduce your ability to physically control your bike, as well as impair your judgment and reaction times. If you plan on drinking, don't plan on riding.